How to brighten up a dark interior? Check out the guide.
Posted by GLAM POSTERS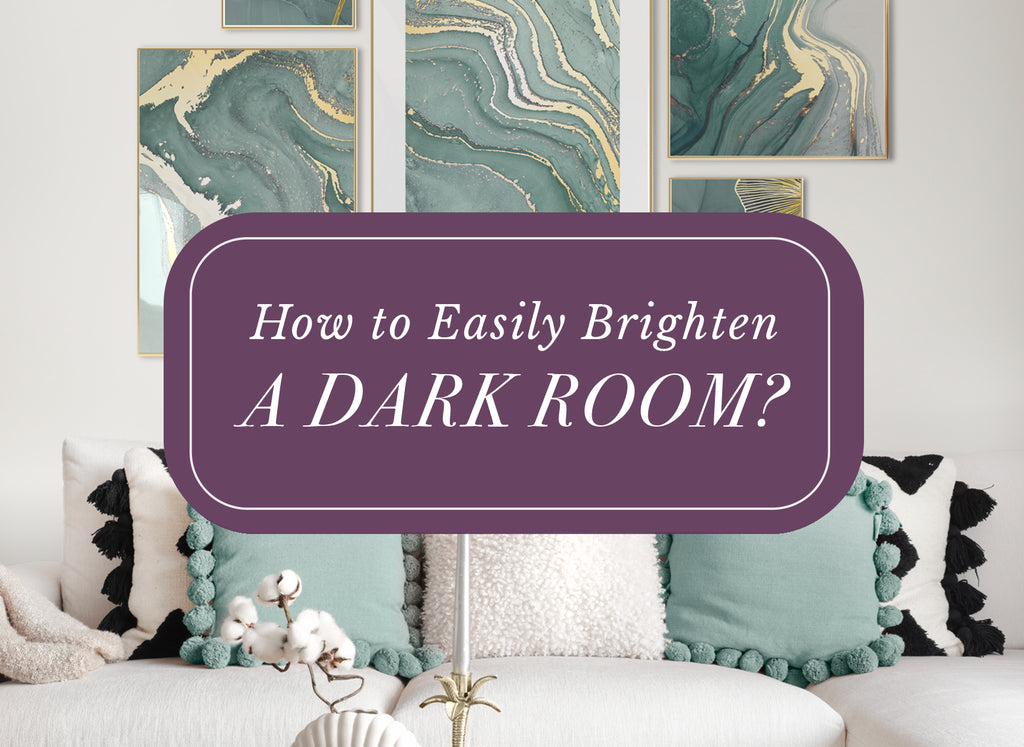 Each of us dreams of creating a cozy atmosphere and positive energy in our homes. Do you realize the tremendous impact that light entering the interior has on our daily lives? Proper room lighting is a key element when making decisions about purchasing our dream home. Unfortunately, there are situations over which we have no control. Property prices are constantly rising, and surrounding buildings limit access to natural light. Renters also often struggle with the issue of dark interiors, and they often have little influence over the situation. Our immediate environment often determines our life energy and desire to take action. Working in such an environment becomes burdensome, and a person functions differently when surrounded by a bright and harmonious space.
If you have faced this problem, we have a quick guide for you that will help brighten up your interior step by step using only decorative accessories. The best part is that you don't have to undergo renovations - your imagination is the only limit.
Step One - Choosing a Color Palette
If your interior is dark and dominated by shades of gray, try selecting an appropriate color palette. The palette should consist of a maximum of three colors:
1. Base Color - Make sure to choose a light shade as the base color. As an example, we suggest ecru, which goes well with almost any interior. This color serves as the foundational hue. Select most of the accessories for your interior in this color. Neutral colors have been incredibly popular for several seasons now.
2. Warmth-Adding Color - In this case, it's the texture of wood. Our visualization interior needs a touch of warmth. All the furniture, doors, and walls have a dark shade, so we decided to add some coziness to it. Incorporating wood as an element that adds warmth to the interior is also an excellent way to visually brighten the space
3. Third Color as a Color Accent - It's the icing on the cake on the path to brightening up the interior. If you desire a harmonious effect in your interior, remember not to overdo it with the amount of color. Try to match accessories in a complementary shade to create a perfect blend. In our case, we chose a minty shade, which not only brings freshness to the space but also beautifully complements the gray.
By following these guidelines and carefully selecting your color palette, you can transform your dark interior into a brighter and more inviting space.
Step Two - Interior Warmth
It's time to introduce elements that will warm up your interior. See how just the addition of a wooden table, a fig tree in a pot, and a basket contributed to creating a pleasant, warm atmosphere. Sometimes, you don't need to make big changes - a few selected items are enough to achieve a cozier effect.
Step three - accessories
Now it's time for accessories in our base color. In our case, these accessories include a beautiful throw blanket, pillows with interesting designs, and eye-catching vases. It turned out to be essential to replace the dark rug with a light one, which created incredible brightening effects. Additionally, placing light curtains on the left side proved to be a good decision. Various textiles will help us achieve the intended ambiance in the interior.
Step four - accents
Mint Bedroom Set Of 3 Posters
It's time to introduce a color accent, which is the proverbial "icing on the cake." Adding accessories in the base color already creates a spectacular effect, but introducing a color accent gives it character. In our case, mint posters with gold prints serve as the color accent. Gold additionally reflects light, brightening up the dark interior. We also added pillows and a small color accent on the table in the form of a round candle.
How do you like the final result? Be sure to let us know in the comments!
Collection 2019
Sale 70% Off
Third slide